I've always thought the video games Epic Mickey and Epic Mickey 2: The Power of Two would make cool movies. They already have a fascinating world, all Disney has to do is turn it into a movie trilogy!
---
Story
Epic Mickey channels retro, surrealist and steampunk vibes. In this universe, the popular Disney characters live in Toon World, while the lesser-known Disney characters live in Cartoon Wasteland. Mickey Mouse is the leader of Toon World and Oswald the Lucky Rabbit is the leader of Cartoon Wasteland. One day, Mickey unknowingly unleashes a monster into Cartoon Wasteland. The monster destroys everything and instaures a rule of terror. Years later, Mickey enters Cartoon Wasteland and sees what he's caused. He sets out to defeat the monster and to restore Cartoon Wasteland to its original state.
In the sequel, a series of earthquakes threatens to destroy Cartoon Wasteland. Mickey and Oswald team up to investigate. There's a faux-antagonist, but in the end, it turns out to be the Mad Doctor's fault. He plans to broadcast himself into Toon World, and he does so with a musical number! There was supposed to be a third game, but Disney shut down the project. Rumors said it was going to take place in Toon World. There's a 3DS companion game in which Mizrabel captures popular Disney characters from the movies (Aladdin, Beauty and the Beast, The Little Mermaid, The Lion King, Tangled, etc.).
---
Characters
Oswald the Lucky Rabbit: Oswald was Walt Disney's first character, before Mickey. He was the first inhabitant of Cartoon Wasteland and its king until the monster attack. He loves Ortensia.
Clarabelle Cow, Horace Horsecollar, Pete: These other forgotten cartoon animals all share the signature white face and black body. They re-appeared in the 2013 short Get a Horse! (below).
The Mad Doctor: The Mad Doctor was a villain in a 1933 Disney short. He sided with the monster. He builds animatronics, including versions of popular Disney characters like Donald, Daisy and Goofy.
Gremlins: The Gremlins were created by Roald Dahl in 1943 for a Disney film that never came to be. They were small creatures who helped the British fight the Nazis.
Mizrabel: Mizrabel was the villain in the 1990 video game Castle of Illusion starring Mickey Mouse.
Others: the magic brooms from Fantasia, Captain Hook's pirate crew, the lonesome ghosts, etc.
---
Location
Cartoon Wasteland has locations inspired by former Disneyland rides, old Disney shorts and feature films, current Disneyland locations, etc. Here are a few examples:
Dark Beauty Castle: Based on Cinderella's castle, this used to be Oswald's home, but following the monster attack, it became the Mad Doctor's lair. It has stained glass windows depicting villains.
Gremlin Village: Based on Fantasyland, it includes the "It's a Small World" boat ride, "Mad Tea Party" and "Dumbo Flying Elephant" rides, and smaller rides.
Ventureland: Based on Adventureland, this is the home of Captain Hook's crew. It has elements of The Jungle Book, Pirates of the Caribbeans and Peter Pan.
OsTown: Based on Mickey's ToonTown, this is a small village made up of the homes of Oswald, Ortensia, Clarabelle Cow and other characters.
Mean Street: Based on Main Street in Disneyland, this place has an observatory and various shops.
Rainbow Caverns: Based on Frontierland, more specifically on the railroad attractions called "Rainbow Cavern Mine Train", "Mine Train through Nature's Wonderland" and "Big Thunder Mountain Railroad", this is a secret underground location that bridges other areas in Cartoon Wasteland.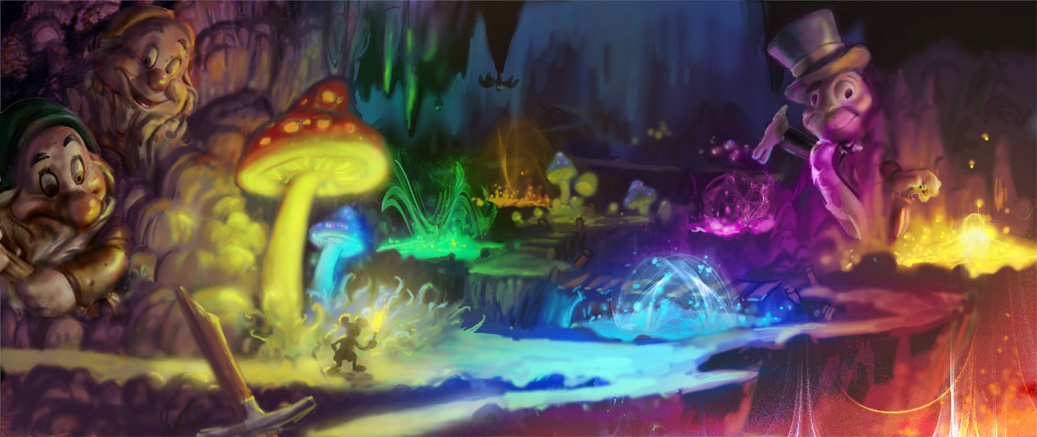 The Dahl Engineering Corridors: These are colorful 2D platforming levels full of discarded Disney memorabilia, like Mickey toys and souvenirs.
The projector screens: These are 2D platforming levels resembling black and white film reels. They are based on old cartoons like Mickey and the Beanstalks, Steamboat Willie and Silly Symphonies.
---
I know Disney Animation Studios are busy developing new stories, but I think Epic Mickey could be a perfect project for DisneyToon Studios. DisneyToon Studios is basically designed to cash in on existing properties, but I think they could take on something a bit more challenging than Tinkerbell or Planes.